I wanted to add another element to the blog, and that is when Dreaming of Design Wednesday came to be. Every Wednesday, hopefully, I will pick a room and show the items I would use to decorate the room. Just like everyone else I am on a budget and I realize that you are probably on one too, so you can count on the fact that I will keep things on the affordable side, main pieces of furniture, like couches, may be the only exception. If you have a suggestion of what kind of room you want me to do next week just leave a comment on the bottom of the post, I will do my best to make it happen!
To start off Dreaming of Design Wednesday I chose to design a bathroom. It would be a major understatement for me to say that I love nautical décor, our youngest daughters room is even nautical in theme (her room should be a post soon).
I began the room with a shower curtain, the shower curtain is such a major visual focal point for the bathroom and I think it should be the anchor (pun fully intended and necessary) of the room. I love the muted blue and the more adult like boat print on the curtain.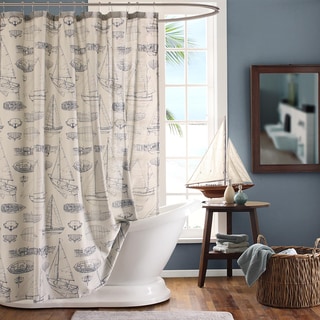 Again, with the muted blue tone, and what could be more nautical than stripes and woven textiles?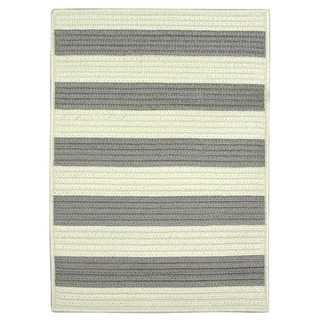 The anchor towels are not muted like the rest of the bathroom elements but I LOVE THEM! I actually plan on buying these for the kid's bathroom in the very near future.
I like to be creative when it comes to hanging towels in a bathroom, so I think a boat cleat hanging next to the sink would be a great place to hang hand towels. Two boat cleats hung on the wall outside the shower with rope hanging between the two would make a great place to hang decorative and your fresh shower towels.
This is a great post by
H2O Bungalow
of how to make the cleat and rope towel hanger.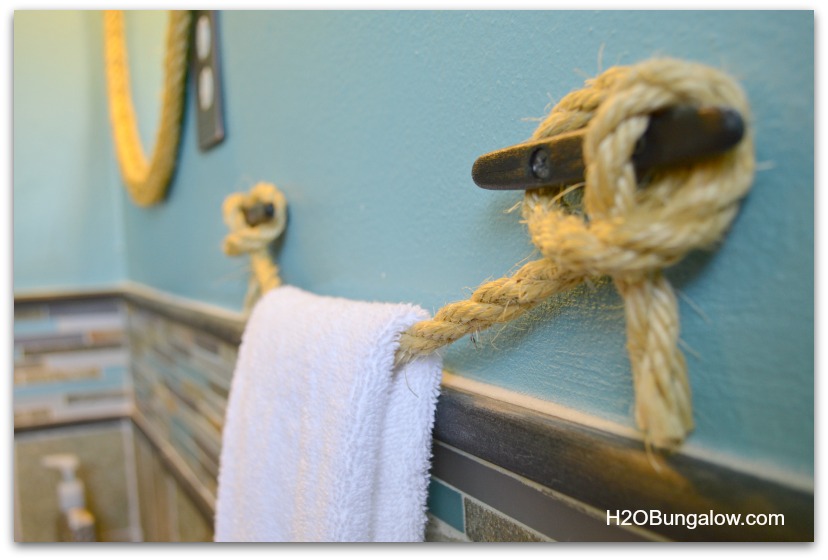 When it comes to the walls of the bathroom, I like this weathered looking porthole mirror. Do you feel like you are out at sea yet?
Architectural prints are some of my favorite ways to decorate a blank wall. A framed grouping of these model boat prints with the porthole mirror would be fantastic looking, and pull the room together. And, did I mention that these are free to print!!
BONUS!! If that first shower curtain just wasn't your style and you are looking for something a little more fun then, you can not go wrong with this octopus shower curtain!
I hope you all enjoyed the very first Dreaming of Designs Wednesday. Please feel free to give me suggestions as to what room you would like me to do next week and what kind of theme or feel you would like the room to have. Till next time, thanks for stopping by Preston Drive!